---
Many would agree that an oversimplified yet accurate way to describe installing and managing EV charging in a strata car park would be somewhat complicated.
The following guide provides insights and important considerations when looking into EV charging in a strata complex. Also provided is a list of solutions that can be combined to make the process much more palatable and manageable.
Key considerations include:
Power Monitoring to Determine Capacity
Electrical Infrastructure Requirements
Load Management to Prevent Overload
Usage Reporting to Allocate Costs
Automating Electricity Cost Recovery
Sourcing Finance for Project Costs
As the authorised agent for Smappee in Australia, and experts in energy monitoring and EV charging, Vista Power Technologies can provide a solution to all the above hurdles. This makes implementing an EV charging network within a strata facility as simple as it can be, by leveraging the latest technologies and best practices.
Let's break down each of the challenges that may be presented in an EV charging project and look at the solutions we have available.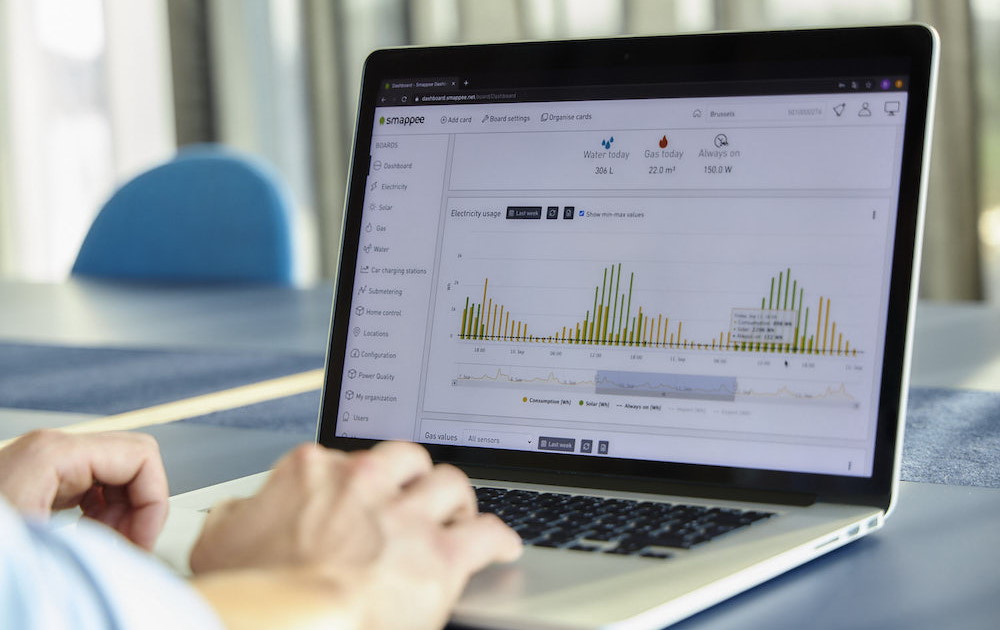 Power Monitoring to Determine Capacity
The first step any facility should take in evaluating their capacity for EV charging infrastructure is collecting some electrical consumption data over a period of 1-3 months. This is to determine what additional capacity they have for EV charging and whether an upgrade to the supply for the building is required.
For example: the building may have a 200A three-phase supply, but how much of that capacity is left over after household consumption and common loads?
Thankfully this can be achieved quite easily by installing a Smappee Infinity system at the main switch board. This can collect grid import data and provide reporting on electricity usage over time via a cloud-based dashboard, accessible via the free web app.
Typically costing less than $3,500 for supply and installation of this system, facility managers and owners corporation members can quickly gain access to this valuable data and determine what charging capacity they have available to work with.
The other benefit of installing the Smappee Infinity system for this purpose is its ability to be used for overload protection and dynamic load balancing of the EV chargers (see load management section).
Electrical Infrastructure Requirements
Once a strong understanding of available supply capacity has been developed, a decision can be made as to the size of the EV charging supply. Typically, a separate power distribution board (EVDB) will be installed to feed the charging stations. This would be rated to a little above the maximum excess capacity measured during the power monitoring step.
Previously, industry practice would be to install individual circuits for each charging station. This significantly adds to the cost for circuit and earth leakage protection, cable tray, cabling, and labour. Not to mention the issue of potentially hundreds of cable runs throughout the car parking areas to individually feed power to each car park.
Our solution for this is to utilise a specially developed flat cable system that can supply multiple charging stations off each circuit breaker. This significantly reduces cabling and cable tray requirements, whilst also providing a much tidier solution.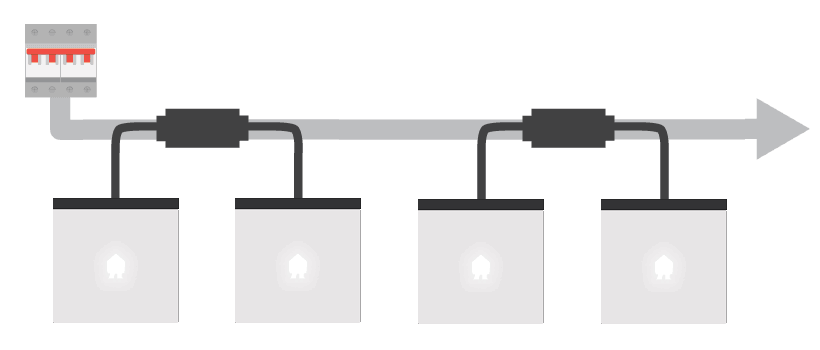 One of the key benefits of this cable system is that it can be initially installed as backbone electrical infrastructure. Apartment owners can then easily tap into this system at the time of making the switch to an electric vehicle.
Load Management to Prevent Overload
EV charging is no small load. At 7.4kW for single-phase charging stations, and up to 22kW for three-phase units (when referring to AC type charging), the total potential load can grow rapidly. Just 10 x three-phase charging stations have a load potential of 220kW or more than 300 amps. Many buildings just don't have the capacity to support these sorts of loads.
This fact alone makes a load management system a critical requirement to any site looking to install many EV charging stations – even when a large supply capacity is available.
Overload protection aside, there is also the need to fairly share the available load across all the charging stations. This is called dynamic load balancing. In a nutshell, the system needs to monitor the available (excess) capacity at the grid connection, and then spread any available power across all the active charging stations.
The good news is that when Smappee EV Wall charging stations are used, the Infinity system installed at the power monitoring step can also be used for overload protection and load balancing control.
There is only an upfront cost to enable this feature on each charging station and no ongoing fees for this functionality. This makes the Smappee EV charging load management solution one of the lowest cost options on the market when considering both upfront and ongoing costs.
Where there are existing EV charging stations on site, or the property owners want the option to use various brands of charging stations, a third-party system can be used for this load management functionality. However, this option does come with ongoing annual fees.
Usage Reporting to Allocate Costs
Okay, now we have the electrical infrastructure and load management sorted. We now need to consider how billing will be managed. Because the power is typically drawn from the site's common supply, EV charging sessions need to be tracked to ensure apartment owners can cover the costs for the electricity required to charge their vehicles.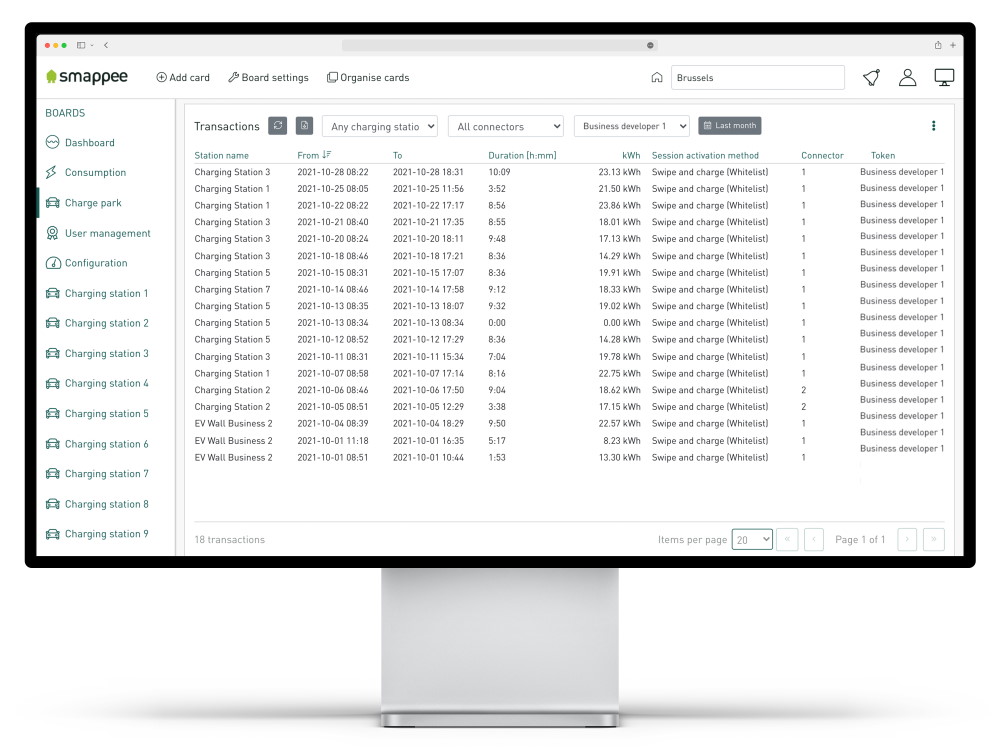 Where the strata want to manage things with minimal ongoing costs, the owners corporation can manually manage the billing of apartment owners for their EV charging consumption. This would involve running a monthly or quarterly report via the Smappee EV charging management dashboard, on a per user basis. This will allow a bill to be raised based on an agreed cost per kWh.
Automating Electricity Cost Recovery
If it's preferable to have billing managed automatically, then there are third-party platforms available including our own Vista Charge service.
Utilising a third-party platform has its benefits, including being hardware agnostic. This allows apartment owners to choose any EV charging station compatible with the latest Open Charge Point Protocol (OCPP).
These solutions are typically used for automated billing management, where the user downloads a smartphone app, creates an account, and adds their credit card details. The charge point operator (CPO) then takes payment at a set amount per kWh after each charging session and reimburses the strata owners corporation on a monthly or quarterly basis.
The only drawback with this scenario is that there are ongoing costs, which typically include annual service fees and transaction fees. However, this is often considered to be worth paying to reduce the responsibility placed on property management.
Sourcing Finance for Project Costs
Now that we've packaged everything up and are ready to go ahead with a solution for EV charging infrastructure in strata car parking, there's one final hurdle: managing the upfront costs.
Most apartment owners aren't going to want to fork out more than $1,000 each to cover these costs. Especially the ones that aren't yet ready to switch to electric propulsion, regardless of the tangible increased value on their property for EV ready car parking.
With this in mind, we recommend talking to a strata finance specialist who can package up the project costs for payment over a 3-5 year period (for example), allowing apartment owners to incorporate the project costs into their quarterly OC payments. This might be somewhere in the vicinity of an additional $100-$150 extra per quarter.
By managing things this way there is a little less financial shock to everyone, and the barrier of approvals by apartment owners can be somewhat reduced.
Conclusion
So, there we have it. By utilising the right technologies and solutions available, the complicated challenge of EV charging in a strata car park is made a little less daunting and a little more approachable.
Get in Touch for More Info
Phone us on 1300 878 287 or send a message…
Complete and submit the enquiry form below and we'll get back to you ASAP